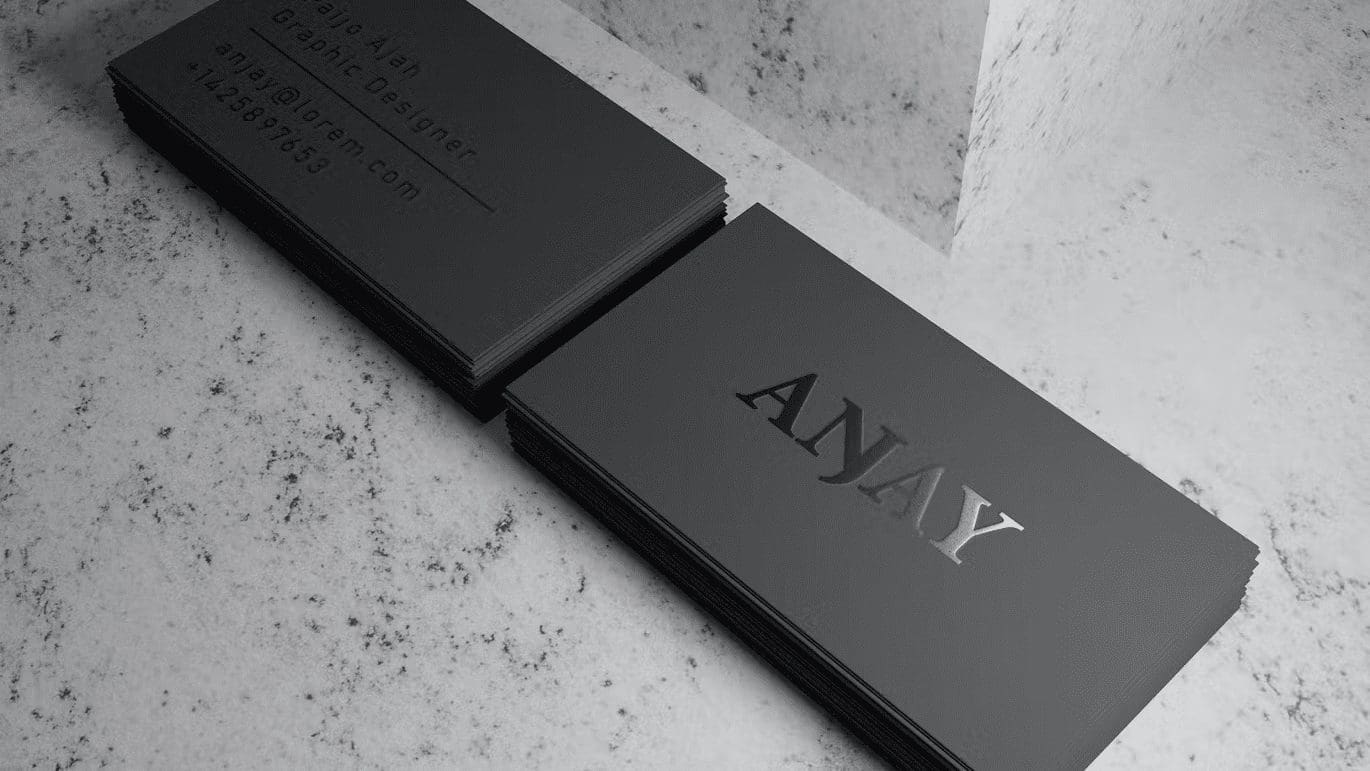 The best are the ones that immediately catch your eye. Whether you're handing them out to clients or using them to impress someone you just met, you want your business card to stand out from all the rest without making it difficult to read the information contained on it.
Here are some of the most eye-catching business cards out there, each of which has its own unique take on textured and embossed designs.
What is a textured business card?
There are many techniques and materials used to make textured business cards. One of these techniques is a raised stamping technique commonly referred to as debossing, where an area of the texture is created on a surface by selectively recessing or stamping out an area of higher relief.
A common example of debossing is when text appears to be embossed into the paper. Text can also be sunken below a surface; this is called blind debossing and works especially well for adding depth to visual effects such as shadows.
Other methods include:
foil stamping
spot UV
die-cutting
embossing
engraving
The type of material you choose will have a big impact on how your business card looks and feels in your customers' hands.
Metallic textures are hot right now
They're trendy, unique, and reflect an aesthetic or style for which your company is known. If you're looking to add some personal style to your business cards, look no further than metallic textures.
Learn about how each one reflects your unique identity, then pick one for your new set. You might be surprised at just how easy it is to make a statement with texture!
Here are three types of metallic textures that you can choose. For the type of look, you are looking for your company, you can choose from our following premium business cards:
Foil Accent: These business cards feature a metallic foil accent in either red, blue, or gold. The foil design is raised off of the card and only shows up on one side. This is a subtle but sophisticated look for your business cards.

Raised Foil: Improve your company's visibility right away. Not only will they get you noticed, but they'll also improve your brand recognition and call to action. Through raised printing, your name will literally pop off of cards—grabbing the attention of everyone who sees them.
If a potential client doesn't recognize your logo at first glance, these eye-catching business cards can bring in new clients.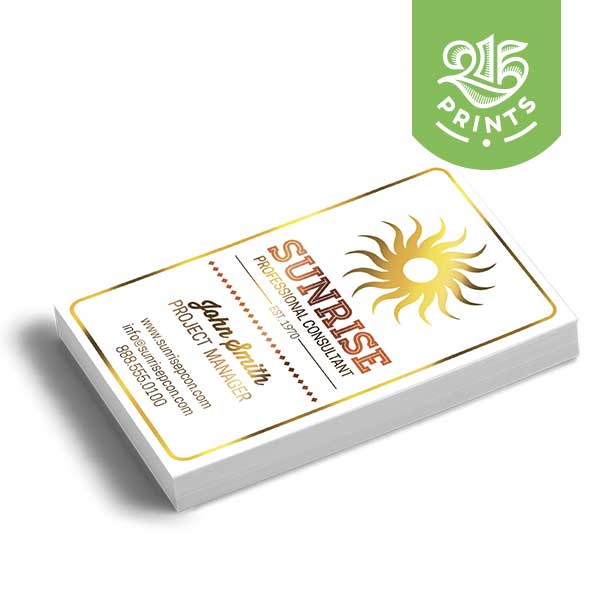 Akuafoil: These cards are textured, come in multiple colors and textures, and incorporate an engraved logo. The result is a classic business card with a sleek feel. Smaller lines mean your company logo or contact information will be easily legible without being crowded on a card.
These cards also come in eco-friendly versions made from recycled paper.
If you're not looking for metallic textures, you can opt for raised spot UV business cards or silk laminated business cards.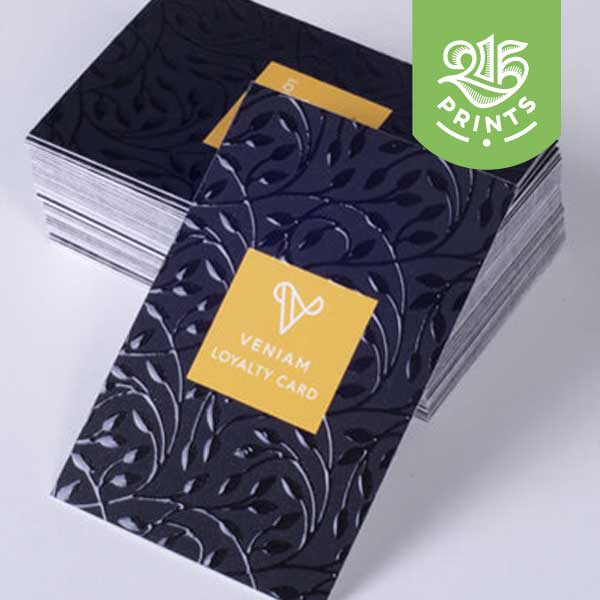 Raised Spot UV: Easily noticed by clients and prospects, raised spot UV business cards are sure to hit the mark. Just remember that only Spot UV is raised; the rest of your design is flat – so don't be shy about making a special design.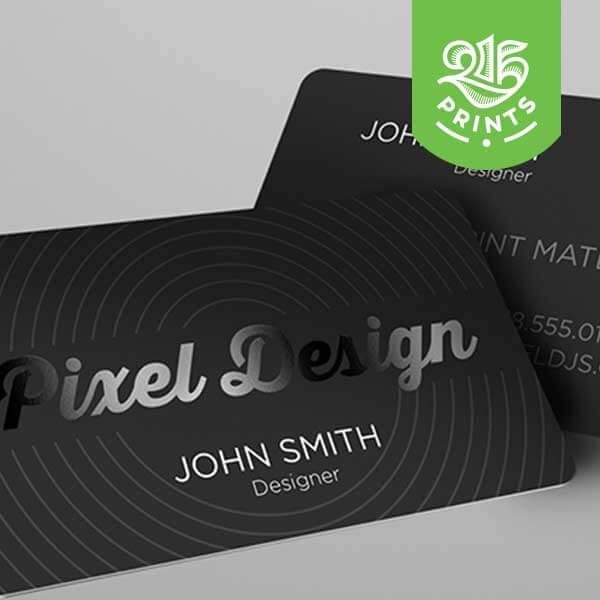 Silk Laminated: Silky smooth to the touch with a matte appearance, Silk Laminated are laminated on both sides giving them durability and added strength. This makes them ideal for everyday use. If you want to learn more about what matte means and what it looks like, check this article on the difference between matte and glossy business cards.
Check out some examples of the Premium Business Cards you can find at 215 Prints:
Paper texture business card
Do you want to stand out from all of your other colleagues? Try out a textured business card. These cards are a great alternative to a traditional plain card. Adding texture to your company's business cards is an eye-catching way to get attention and make people remember you.
It gives you a professional look and makes it easier for people to read and take note of important information, such as your contact information, job title, phone number, or email address.
Images can add texture
A great way to add texture to your company's business cards is to use an image that's textured. Whether it's a photo of marble or pebbles or even something like wood grain, any texture can make a design pop. Look for images on sites like Flickr and iStockPhoto, then license them from Getty Images if you decide you want to use them in your design.
And remember—just because you have an image with texture in one part of your business card doesn't mean every single side has to incorporate it; as a general rule, keep three sides unadorned for printing purposes.
Don't use too many textures at once
While textured business cards certainly catch your eye, it's easy to go overboard. When you try to add too many textures, everything becomes muddled and you end up with a messy visual. Instead of trying to throw too many patterns into one design, pick two or three and stick with them. That way, each texture will have its own distinct space on your card and you won't be left with an overstimulating design.
For example, keep your logo in one place—preferably in a spot that isn't textured—and then use other elements such as color blocks or contrasting fonts elsewhere on your card.
Choose a unique color and stick with it
Many business cards today have a two- or three-color design. If you plan to go with a design like that, choose a background color and then pick two or three colors from there. Why? Choosing too many colors can cause your card to look busy, while picking too few colors may make your card blend in with all of its surrounding competitors.
Either way, you want your business card to stand out, so be bold by picking one solid background color and using two or three contrasting colors for smaller details. At best, your textured business cards will help customers remember who you are at worst!
Best business card texture
It's hard to stand out in today's business world with text-only business cards. While many businesses are embracing minimalist designs, adding texture can create a unique look and feel for your brand. Textures can make your company stand out from others who choose plain colors. If you want to add texture to your business card design, there are a few ways you can get it done
It's time to upgrade to textured business cards
There's nothing worse than an uninteresting business card. When you present one, it will look like a last-minute afterthought—like you didn't care enough to put in time and energy into giving it any real thought. Professional business cards can be more expensive than standard cards, but they are worth it!
They convey that you take your career seriously, and they stand out in your contact's wallet when they pull them out later on. It may seem trivial, but first impressions really do matter, and having good business cards makes a difference.
The business card you have may have been fine when you first printed it, but now that everyone has them, it's time to give yours an upgrade to stand out from the rest of the crowd. Business cards are an easy way to keep your brand in front of potential clients, and giving them something unique like textured business cards will help do just that.
Watch our video on how to set these special cards for printing: Akuafoil & Raised Spot UV Tutorial video
Would you like a textured business card? Let us help you with our quality, on-time printing services. Contact us today!