When it comes to business cards, there are two major finishes you can choose from: glossy and matte. These two finishes come with their own benefits and disadvantages, but at the end of the day, your choice really just comes down to personal preference.
In this article, we'll take a look at some of the features that make each finish stand out and help you determine which one you prefer.
You might even be surprised to find that your favorite finish isn't what you expected!
The Difference Between Matte and Glossy Business Cards
Colors Pop, Personal Preference, Paper Stock, and a Glossy Finish: There are two main types of business cards – matte and glossy.
Matte cards have a flat finish while glossy cards feature a shiny, reflective surface. Each has its own strengths and weaknesses that you should be aware of before making your decision.
Here's what you need to know to determine which one is best for your situation: When it comes to color printing, matte finishes can actually enhance contrast and make colors pop a bit more than glossy finishes will!
The difference isn't tremendous but it's definitely noticeable if you're looking at both glossy and matte cards side by side (hence our recommendation).
This can especially help when printed photos or images with extremely vibrant colors are being used as part of your card design.
Which Finish Should You Choose?
Colors pop and contrast against glossy finishes, which make your card stand out in a stack. If you tend to use bold colors in your design (like red or blue), a glossy finish will make it pop even more.
However, if you want a more subtle look, matte cards are your best option. The lack of sheen allows for more minimal designs and prevents colors from looking too busy on their own.
Matte is great for making sure that information is easily readable as well; real estate business cards have lots of small details, after all!
Why Some People Prefer Silk Matte Cards
Some people prefer silk matte business cards:
For a more professional look.
For their less reflective quality.
Silk Matte cards have a softer, more textured finish and feel more comfortable to hold.

The Personal Touch
A glossy finish may be more attractive at first glance, but it has a tendency to become less visible with use. A matte finish won't cause your brand to fade or disappear like a glossy business card can.
Matte cards also have better print clarity and don't scratch as easily.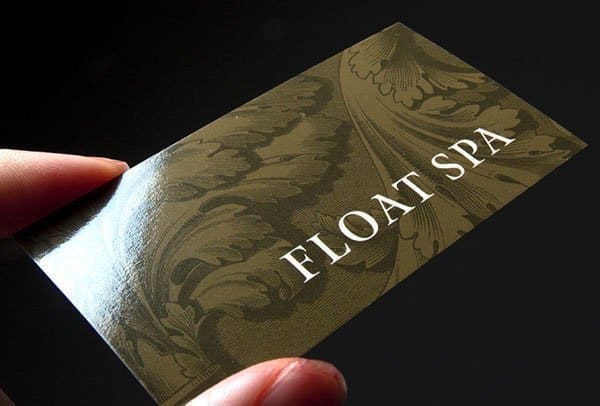 Where can I print glossy or matte business cards?
If you're looking for a unique 14pt business card or 16pt business card that sets you apart from your competition, then glossy is probably best.
If you have questions about whether glossy or matte is right for you, simply feel free to reach out to us at 267-300-0003 and we'll help you with all of your custom printing needs!